About Southern Traditional Siamese and Balinese
My love for these beautiful and endearing cats started at a young age.
As an adult my Siamese cats grew old and died. I was devastated at the loss of these faithful friends and companions. I looked for more 0ld fashioned Siamese cats to again be in my life and was disappointed to only find wedge headed Siamese that have become the new designer Siamese cat.
It took me a year to find an old style kitten. In that time I decided I would never be without these old time cats that have stolen my heart, so I have become a breeder to preserve these rare and majestic cats.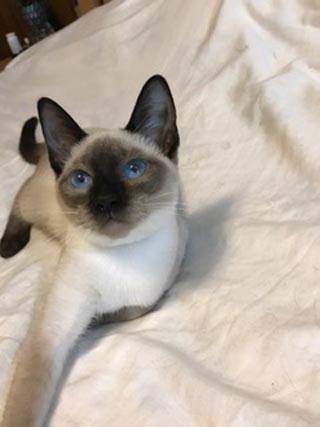 My cats and kittens are never in cages. My girls always have their kittens in my bedroom and I am by their side during the birth process and the kittens are imprinted at birth. At three weeks of age they are moved to another room with a kitty pan and scratch poles to learn how to use the kitty pan and to use a cat tree to scratch on. As they get older they will get to know the rest of the family of dogs and other cats to become well socialized.
My kittens grow up to be people cats that are in-your-face, on-your-lap kind of cats that are very talkative and always in the middle of what you are doing. They will be come your companion and friend for life. These wonderful cats can live into their late teens, so be prepared to have a long relationship with these old fashioned charmers.
I screen every buyer to make sure they are suitable for one of my kittens. You will have to sign a spay/neuter contract to ensure the kitten is not used for breeding. You must send me a copy of the vet bill stating the kitten has been spayed or neutered, then I will send the registration certificate (CFA or ACA ).
I do not sell kittens to people that intend to declaw the kitten. This is very cruel and painful, both physically and emotionally to a cat. I feel if you are a true cat lover you would never consider doing this.
There are other ways you can stop cats from scratching. You can use a product called Soft Paws. They were developed by a Veterinarian and are colorful little covers you but on each claw and are fun to put on and very bonding with your kitty. You can find them at www.softpaws.com. In the past I did Siamese rescue and saved many that were going to be put to sleep because of a botched declawing surgery that made the cat's crippled for life, it was very heartbreaking and sad. You can also invest in squirt bottles, fill them with water and spray them when they scratch on something you don't want them to, it works great. You can also use scat mats, they are plastic mats that give a tiny electric shock and will train your cat not to scratch the sides of your furniture. You can find them on-line just put in Scat Mats for pets in the search box and many sites will come up. They do not hurt your cat, I use them myself and they work and is an awesome training device for cats.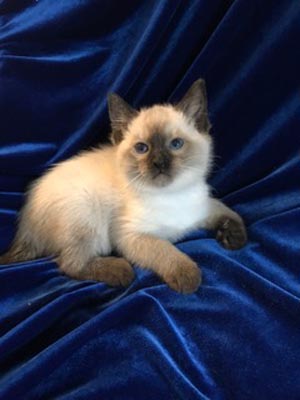 So there really are other ways you can use instead of declawing your cat and causing it so much pain, put yourself in their place and how it would feel to wake up in pain minus the first knuckle's of each finger which happens to them during declawing. It is really disgusting to see and if you really loved your cat you would not get it declawed.
I strive to find the best homes for my kittens, families or a person that will love and cherish them as I do.
My kittens are very socialized and have no fear of a human and are very trusting and innocent as a child would be. They will help console you when you lose a very special kitty, and although they will not replace them, a new kitten will make you laugh and will bring much love to help you get through that time. And you will again open your heart to a new 4 legged family member that will be with you many years to come.They also have a way of knowing when you are having a bad day or are sad. They will do everything they can to make you laugh or do something to distract you. And when you are sick in bed with the flu, they will not leave your side. They will love you unconditionally.
If you have never owned a Siamese, or should I say be owned by a Siamese, you are in for a great adventure you will never forget.
My Guarantee to You
I guarantee that my kittens will be pre-spoiled, healthy and robust felines that will charm you and make you laugh and grow to be beloved companions who will become a lifelong friend.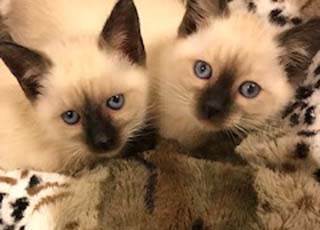 ---
For more information contact us at (985) 542-1681 or email: [email protected]
Updated August 10, 2019